Introduction
Almost everybody needs a website. Every business, no matter the size, can enhance its prospects with a website. A website allows you to sell or reach millions of people with ease. You also have the added advantage of managing your business at the click of a mouse. Given the importance of websites, it becomes a matter of necessity to have one. But building a website requires knowledge of coding, html, programming, graphic design and excellent copywriting. If you do not have all of these skills, what do you do? If you do not have the time to put together hundreds of pictures, thousands of words and tens of pages, what do you do? This scenario leads us to the issue of quick deployment of websites. In what way can we quickly get our information onto the net? In other words, how can we get our sites running in les less an hour?
Fortunately, there are several options to help in this direction. There are many tools, software and packages to help us publish our content onto the web without having knowledge about html or web design. Once you can type, you can get your information online.
In this guide, we take a look at the various ways we can get our sites operational quickly. Contrary to opinion, a website need not take hours to do. Getting your information onto the net should not necessarily be a matter of days. Within an hour, you can get published without having to know anything about web design.
Whether for fun or business, you can manage your web publishing in a timely manner. We show you how. You will be amazed to learn that, the tools you need to get this fast turnaround are with you everyday and you may have on several occasions come across them.
The various option described here are not supposed to be utilized en bloc. Depending on your individual needs and situation, one option may be more viable than the other. The essence is to show you what is available so you can conveniently adopt or implement the choice that offers the most of benefits.
Blogs
Blogs originally started as online journals that enabled users to make posts about their daily lives. Later they became fully fledged websites favored by many because of its ease of management and deployment.
Basically, a blog is an easy to use website that allows speedy and simplified publishing of text and images onto the internet. They are mostly free on the Internet. There are several of them, including Blogger, Xanga, TypePad, and LiveJournal.
Blogs have thousands of attributes and features, but the most outstanding of them all is the ease and speed with which you can generate a website with them. Many people begin their online presence with a blog. The reason is simple. You don't need any html or programming skills to deploy a blog. They are superbly fast to implement.
To obtain a blog, you can visit any of the provider websites and sign up for an account. That's all you need. The next thing is to make entries into your blog. All posts you make are published instantly o the web. You don't wait for any process to complete. You write, you click, you publish.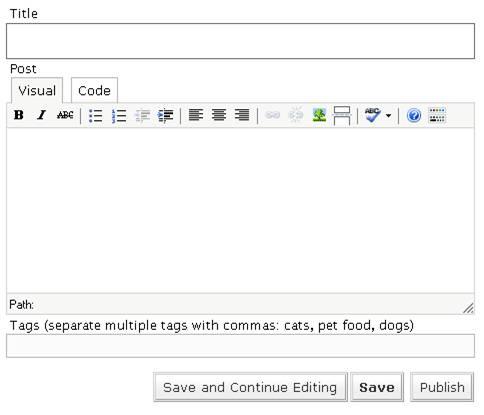 Figure 1. The blog dashboard showing the Title field, GUI buttons and Publish button.
The blog interface is designed to facilitate speedy entries. You go to your dashboard, which is the platform you use to manage the blog, and click on create a message, post a message or create an entry. The phrase differs from provider to provider, but they all refer to writing. You will be presented with a text box into which you will write the title of your post. The title is usually about 10 words long. After this entry, you will come to the body of the post. In this box, you will write all you want to. You are not limited in words length as in the title. You will have tools to enable you to bolden, italicize or otherwise format the text in any way you want. No html or coding is necessary. After the entry, you can click on Add Image text or icon to add an image to the blog. That's it. You click Publish and your post is live. Your entry is immediately published to the net.
Blogs offer website owners a smart and quicker way to post information to the internet. If you are in a hurry and want to get your information onto the internet in minutes, blogs offer you a quick option. The intuitive and graphical nature of the blog also facilitates your entries and contributes to the overall expedited publication of information onto the internet.
Turnkey websites
Another quick way to get your site running in minutes is by the use of turnkey websites. Turnkey websites are fully functional websites developed for particular themes. So we can have a blog turnkey website which talks about blogs, an automobile turnkey website that discuses cars and a PC turnkey website that contains information on computers. You will not have to worry about designing the site or loading it with content. The information and text you need to run the site plus all the images required are sold as part of the package. You will just need a web host and domain name to make the site go online.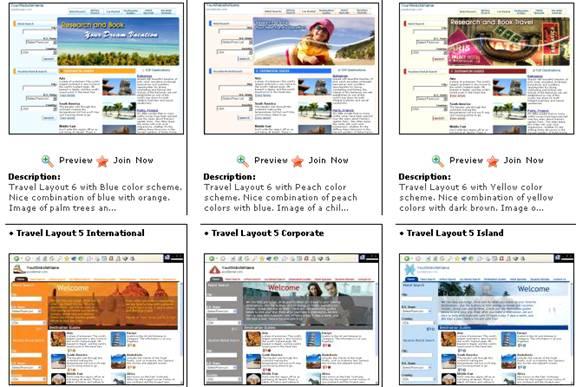 Figure 2. A vendor displays various templates of turnkey websites on his site
Turnkey websites assist website owners with an easy access to online presence. Within minutes, you can load your website and then display the content to your web users. The site owner is relieved of the stress associated with writing articles, looking for information, developing images and getting the back end aspect of the site going. You leave all of this to the turnkey site sellers.
Many turnkey sites come with complete management capabilities, so you don't need any skills in web design or programming to be able to manage them. The sellers understand that most website owners are more businessmen than techies, so the turnkey sites are made to be managed with all simplicity.
They come with pre installed forms, shopping carts, search capabilities and even images. All that a buyer needs to do is to host it. The turnkey website has been pretested under thousands of scenarios and certified to be of the highest quality. They will fit every type of hosting, Windows or Linux. Again, they don't require large amounts disk space or bandwidth to run.
Turnkey sites remove the stress out of web site design. You will find out that all the hard work has been done by the sellers and all you have to do us to host it and enjoy your internet presence. You will not need to do any research to get the best images or text for the site. You have everything done on your behalf.
If you do not have the software, time or skill to design simple or elaborate websites, one of the easy ways out is to buy a turnkey website. In minutes you will have your website rolling on the internet with all the necessary capabilities installed.
If you are looking for a cheap alternative to website design, turnkey sites will be an option as well. They cost less and are the easiest to manage. You will not worry about scripts not working, images not right or text not appropriate. All you get is a complete website that is ready to be published on the internet the moment you buy it.
Domain name
One of the prime needs of anyone contemplating an Internet presence is a domain name. You need a domain name to be able to reach out to your site visitors for they need to get your address so they can visit your site.
A domain name is simply the address of your website. An example is www.buildwesbite.com or www.domain.info.
Since the domain name represents you or your business, you will have to take a lot of factors into consideration when making a choice. First the name should be memorable. Www.buildawebsite.com would be better than www.websitebuildingsite.com. People need to remember your site easily. If you have a business and it is quite known, you can use that name. For example, www.ibm.com would attract more visitors than www.computers.com. People looking for IBM machines would simply append the .com to the company name and then reach your site. Additionally, your domain name should be short, easy to spell, not confusing and reflect the content of your site.

Figure 3. A Registrar displays a text box for use by customers to look for domain names
A domain name is easy to obtain. You should visit the website of a domain name registrar and click on the buy domain or any similar link you will see. You will find a list of domain names and their prices. Usually, .com, .info, .net and .org are very cheap. They usually cost $5 to $10. Once you make up your mind on the extension you want, you will input your preferred name into the registrar's registration text box. From here, the system will verify if that name is available. If it is not available, you will have to try another extension or modify your name.
Once the registration is through, you will proceed to the shopping cart and then make payment. The domain details would then be sent to the email address you provided in the domain purchase process. The details will contain your username, login password and the page from which you will login to manage your domain. For most of the time, registrars also sell web hosting so you will only go to the hoisting console and then start managing your website with content. If you are only buying the domain and then using it for a website hosted elsewhere, you will be given the particulars to use for the site.
Within the same day, you will be able to load your website content to the site and give the address out to people to visit. The web hosting company will give you access to your hosting account from which you will manage your web files and load content.
Your website becomes live now and you can draw as many visitors you want to it.
Existing websites
Buying or acquiring a pre-designed website offers a quick and easy way to bring content to the web. You do not need to write any piece of code, nor do you have to go about seeking which images to use. You have everything already setup and published to the web.
The hassles of registration and bureaucratic processes associated with the purchase of hosting is also eliminated by using an existing website, and all of these tools contribute to a speedy implementation of content and web publishing.
All the time you would have spent consuming infrastructure needed to get a site going would have already been dealt with if you buy a website. Hosting and domain name services which consume a lot of time would have been catered for by the previous owner. All you have to do now is to take over and then begin managing. You are not going to waste time by starting from the basics.
There are many sites on the web that offer pre-designed and existing websites for sale. These sites have been previously set up and are been offered for sale. Some people design sites, launch them and then sell them off. That's their business. Buying from them relieves you of laborious administrative processes and time wasting activities associated with hosting, domain name search, design hassles and deployment. Perhaps the most important relief that new owners get from purchasing existing websites is content development. Getting your site filled with information is a time consuming process, as you have to research keywords, write the huge loads of content, format them one by one and get them onto the site.
Buying a website requires that you take due care. You will have to ascertain ownership by finding out whose details are in the DNS records. These records will establish ownership and make sure that you buy from the rightful owners. Usually, the one whose details appears in the DNS records holds the password and the login credentials that you need to manage the domain name and the hosting service.
Buying or acquiring an existing website is your quick way to getting your content onto the net. All the petty details that can get you bogged down for hours and possibly days have already been dealt with. You simply take over the site and then have your content posted onto the web. There is hardly any other faster way to get yourself published on the internet.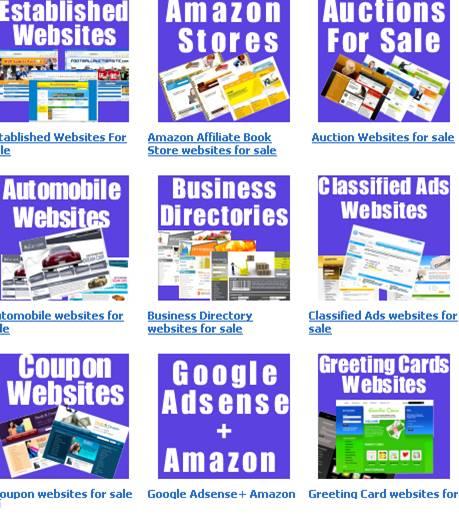 Figure 4. Websites for sale
Hosting
A quickly designed website requires a quick host. Going about your hosting services can be quite bothersome. There are thousands of web hosts on the web and choosing one that will you give you speedy and efficient implementation of your website can be tricky.
We take a look at how to locate a good hosting service provider and get your website deployed on the net in minutes.
The first point is to choose a host that offers domain services as well. So you buy the address, then you deploy from the same company. Buying a domain name from one company and hosting it o another firm's servers take as a lot of time and effort. For people hard pressed for time, this option may not be feasible.
Point number two is to look for a host that will offer you control panel - an easy to manage control panel. Code based interfaces take long to manage and will bog you down. Go for web hosts that will give you a graphical interface. One good choice is cpanel. Cpanel is a WYSIWYG tool for managing your website. No code, no programming or html knowledge is required. You just point and click.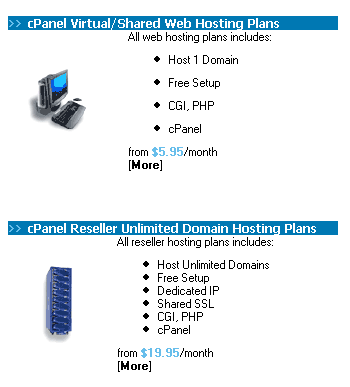 Figure 5. A web host indicates it supports cpanel
If a web host requires extensive paperwork and sign up procedures to get you space for your files, you must avoid it. There are many that will let you buy your hosting in seconds and get your site going in that fraction of time as well. You only need an email address and you are given space to host your files.
For quick deployment of websites you would also have to get a hosting service provider who will map your hosting space to your domain name. With this service, you will only indicate during the purchasing process that you want to host the website on a domain you already own with the company. The wizard will then guide you through the process that will associate your domain name within the hosting you are buying. This way, you can deploy your site in one go instead of going though additional steps to configure your site to your new website address.
Getting your site off the ground quickly requires a web hosting service that is quick as well. Buy both services at one place and get your pages onto the internet in a matter of minutes, not days.
Hosting websites using web builders
Web builders enable you to design and host websites within minutes. They have an easy to use interface that is similar to MS Word. You do not need any knowledge in programming or website design to build your pages. You just point and go. Getting a site ready in minutes would be a breeze with website builders.
Especially made for newbies and professionals who need to get their websites going in minutes and not days, website builders have WYSIWYG or GUI consoles from which you can manage all aspects of the design from text input to images insertions. You will not need a single line of coding. All you need to do is to launch the software and then type what you want.
Website builders have been built into various web hosting control panels. One of such tools is the Templates Express program found in cpanel. This software is actually part of the Fantastico suite that comes with all cpanel consoles. With this software, you can build websites within minutes. It helps you build websites within stressful programming. The program has over 56 web design formats from which you can choose the most appropriate one that meets your needs. You can launch the software from the same control panel that you use to manage your files, check your web stats and run scripts for your website. The Templates Express program requires no programming knowledge. Once you launch the program, you are walked trough a series of steps till you have your website launched. The wizard will be just a matter of point and click so you not waste any time at all.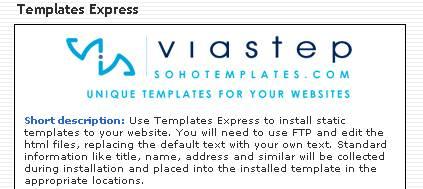 Figure 6. A cpanel display of the Templates Express installation wizard
Another website builder you may want to try for quick website building is the CoffeeCup HTML Editor. It is a simple tool used to generate web pages in minutes. You just drag and drop the features you want for your website and you are ready to go with your web pages. The interface and menus are arranged just like the ones we have in MS Word - graphical, simple and intuitive. Coffecup has the capability of sending your webs files straight to your website if you are designing offline. After you have designed your website, you will not need to log in to your web host to load your files. From the program you can publish the website you just created to your hosting account.
Website builders help build sites in minutes. For novices and busy professionals, they serve as the ideal way to get online presence without much effort. They simply point and click and the get whole websites published. You don't need to have any elaborate html skills. You only need the builder which can be managed online or offline and then you are set with your website. Web builders will assist you design several hundred web pages in minutes and the also help you upload them to the website in a matter of minutes.
For many people, web builders serve as the main means through which they can beat time, beat deadlines and beat price as well.
MS FrontPage
MS FrontPage deserves special mention. This software used for creating web pages quickly comes with the Microsoft Office Suite. So if you have the MS Office, you probably have MS FrontPage for free. Of all web creating software, MS FrontPage appears to be the easiest to use. The reason is, it has the same interface as Microsoft Word, the widely used Windows word processing application. The menus, the tool bars, the windows and the usage mechanisms, follow that of the MS Word.
MS FrontPage is also specially supported by Windows web hosts. There is a component called FrontPage Extensions that ensure that once you create your pages with MS FrontPage, you are assured of compatibility and secondary resources on the server.
These reasons make MS FrontPage a favorite tool with web designers. It has the ability to develop pages quickly and then launch these same pages on the internet at the same time. You will not need any knowledge of html, coding or programming to run MS FrontPage. You simply point and click.
To create pages on MS FrontPage, you simply type your text and add pictures. You use the same process you apply in MS Word. Infact, aside the task bar, you can hardly tell if you are running FrontPage or MS Word. Like Word, you simply click File, go to New, choose a new page and begin typing. You can format the text as you want right inside the text area. You can make them bold, change the font, change the size and even create your links with GUI tools.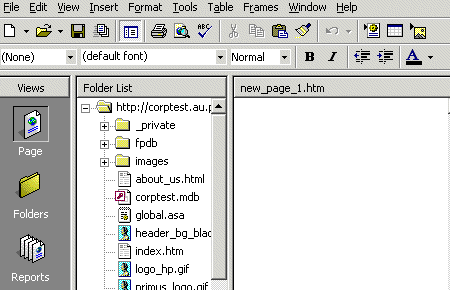 Figure 7. A FrontPage GUI interface and icons
FrontPage comes with templates to ease your job of creating web pages. Templates are preset pages that are tailored towards specific themes. So you have templates for creating sites that relate to computer, cars or houses. These templates provide quick launch websites as you only add text and then have the software do everything else for you.
Publishing your web content to the net is a breeze. From the software, you will click the Publish button and the wizard will initiate the publishing process. You will be prompted for a login to your web host and then your files will be loaded onto your server. The pages you so publish are immediately available on the web for viewing.
Themed websites for sale
One other way to quickly launch your website is to use themed websites for sale or for free. Themed websites are sites about a particular industry or subject. An example of a themed website is web hosting. A themed website is different from a turnkey website in many ways. A themed website may not require hosting from you, they do not have the back end engines that come with turnkey sites and are usually less elaborate in content and format than turnkey websites. They are useful for quickly deploying information onto the net. A themed website may be a single page sales letter or a three page product description.
A themed page is available for free or for a fee. Many affiliate sites offer themed websites about their products that anyone can pick up and then use as their own pages. You would only need to change a code or two to personalize it so that any commission accruing to the website can be credited to you. Themed websites lack flexibility but are extremely easy to deploy and manage.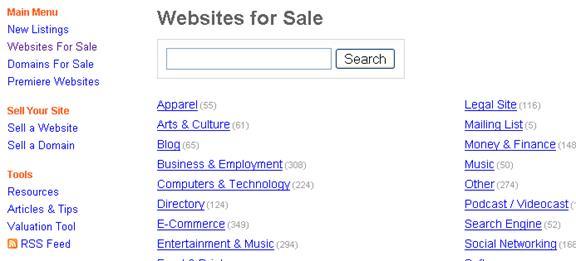 Figure 8. Themed websites for sale. Note the various categories.
It affords you the opportunity to work quickly, intelligently and productively. The absence of any html programming requirement makes it an easy option for non technical people who just need to put information on the internet. HTML can be quite laborious and technically intensive. If you have no software skills, then themed websites will be your option towards a fully functional website in minutes.
Without any experience in web design, you can take the themed website en bloc and put it into your web hosting account. Within minutes, you have a full website viewable over the internet.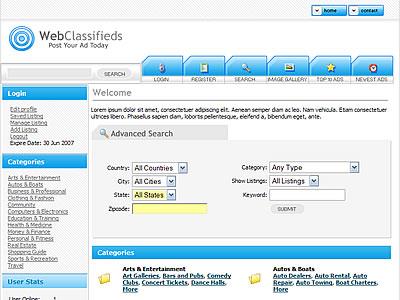 Figure 9. A site for sale. Note it has already been loaded with content.
If you needed a rapidly deployed, DIY website, you have a choice now. Get a themed website and get that information on the net in minutes. You no longer have to go through elaborate designs, programming or tweaking. You have the pages set and ready to go.
Themed websites work for people without technical experience. Not everyone is an html programmer so themed website come to the rescue of the technically deficient individual. The only tools you would need to get a fully functional themed website ready for the net is 10 minutes and internet access.
For people who appreciate speed and quick deployment of web information, themed websites comes as the obvious choice.
Desktop HTML Editors
Unlike other web builders that can be launched and used online, the desktop web builder must be installed on a PC before you can create pages with them. The fact that you will need it on your PC does not take away the speed and flexibility with which you can create websites. Desktop web builders have the same capability of quick web page deployment as their online versions. Many of them also have in built ftp programs that will allow you to upload your website onto your servers and have your website running in an hour.
We take look at the most common and versatile web builders which are also called desktop html editors.
Dreamweaver is a favored html editor. It has a graphical user interface and operates on Windows. To aid quick building of websites, the interface has several icons and wizards to help both beginners and professional undertake web projects in a fraction of time.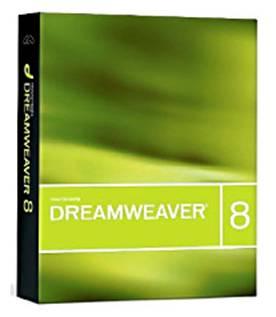 Figure 10. Dreamweaver, a GUI website creator
Adobe Creative Suite is another desktop html editor worthy of consideration. This software has advanced image capabilities and rightly serves as both a web page builder and a graphics editor. If you needed to manage images quickly and deploy them onto the web, this may be an obvious choice.
Adobe GoLive is a high quality editor for image intensive websites. It has an interface similar to Photoshop. Infact, the software incorporates some of the powerful image processing and editing functions of Photoshop, one of the world's leading image editing software.
Expression Web comes from Microsoft. As expected of the software giant, the software comes with several easy to manage templates and tools to help web designers create several pages in less time. Expression Web will suit website owners seeking to create web content for hosting on Windows Servers.
Microsoft Expression Studio is Microsoft's version of Adobe Creative Suite. The program is very powerful for graphics and will give you outstanding and colorful images for use on your website.
Homesite is another website creator with utmost simplicity. The console is graphical and you can easily upload your content to the web trough its inbuilt ftp.The software is very small and highly recommended for designers with small capacity PCs.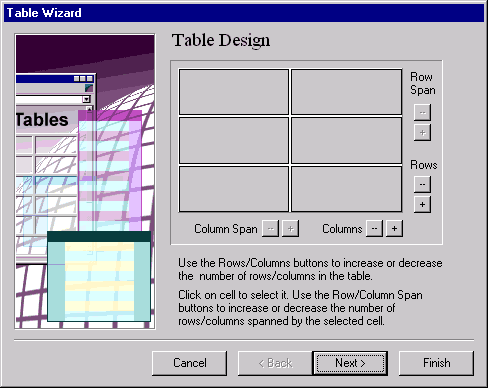 Figure 11. The Homesite simple graphical interface
Conclusion
You do not have to be an expert to quickly deploy your web pages to the internet. Almost everyone can get his site up and running in an hour. You can create the pages online or offline and just upload them to your web server in that instant.
With simple tools, you can have your site up and running in an hour. These tools are designed with utmost efficiency in mind. They have been created to facilitate quick creation of web pages and speedy loading of files onto web servers as well.